By TBH Director, Aytug Ozkan
This article was first published in the June 2023 issue of Construction Week Middle East.
Construction projects, by their very nature, are complex and multifaceted undertakings that involve numerous stakeholders, intricate processes, and significant resources. Expecting construction projects to run perfectly without any challenges or disputes is unrealistic. In the Middle East, particularly in the Kingdom of Saudi Arabia, with the increasing size and complexity of construction projects, we expect a rise in the number of disputes. In order to ensure successful project delivery, it is essential to prioritize dispute avoidance and adopt proactive measures.
Sources of disputes
The most common sources of disputes include design deficiencies or errors, changes in project scope, delays in the project schedule, payment issues, and contractual disagreements.
Changes in project scope can arise due to incomplete design, unforeseen site conditions, or changing client requirements. Design deficiencies or errors can lead to disputes regarding responsibility and additional costs. Delays in the project schedule, whether caused by poor planning or unforeseen circumstances, can create tensions between the parties. Payment issues, such as disputes over the cost of revised or additional works, payment terms or delayed payments, can also escalate into disputes. Furthermore, disagreements over contract interpretation, terms and conditions can result in legal disputes. It is crucial for the project stakeholders to address these common causes proactively, minimizing the likelihood of disputes and promoting successful project completion.
The importance of dispute avoidance in mega construction projects and insights on strategies to mitigate potential conflicts can be summarized as follows:
1. The Rise of Construction Disputes: In recent years, the construction industry in the region has witnessed a significant increase in disputes making avoidance strategies even more important. The increase in the number of disputes in the construction industry can be attributed to several factors.
First, construction projects are becoming increasingly complex, involving multiple stakeholders, intricate designs, and advanced technologies. Mega projects in the region are examples of ambitious ventures that involve numerous designers, contractors, and subcontractors working together on tight schedules each with their own interests and priorities. This complexity introduces a higher risk of miscommunication, conflicting objectives, and coordination challenges, which can lead to disputes.
Second, the competitive nature of the industry often results in tight schedules, cost pressures, and the need to meet demanding client expectations. In such high-pressure environments, there is a greater likelihood of errors, delays, and disagreements arising during the project execution, leading to disputes.
Third, changes in project scope and design are increasing as the time pressures result in procuring contractors with incomplete designs. These changes, if not properly managed and documented, can create disputes over additional costs, delays, and responsibility for design deficiencies.
Moreover, financial considerations play a significant role. The financial impact of disputes can be substantial, and some parties may engage in disputes as a strategic maneuver to secure a more favorable financial outcome.
2. Shifting from 'Handshake Agreements': In the past, dispute resolution often relied on informal or "handshake" agreements between the parties involved. However, in today's complex construction landscape, such agreements are becoming less common, meaning clearer avoidance strategies are required. Mega projects in the region involve significant investments necessitating the development of clear and comprehensive contracts. These contracts should account for the specific challenges and interfaces in mega projects, outlining the roles, responsibilities, and expectations of all parties involved. By clearly defining these parameters, potential conflicts can be mitigated.
3. Cost and Time Implications of Disputes: Disputes in construction projects can have severe financial and time implications. Mega projects, with their massive budgets and ambitious timelines, are particularly vulnerable to such consequences. Delays, conflicts, and disruptions in these projects can lead to substantial financial losses and damage the reputation of all parties involved. Recognizing the potential impact of disputes, stakeholders must prioritize dispute avoidance at an early stage to protect their investments and ensure the timely completion of mega projects.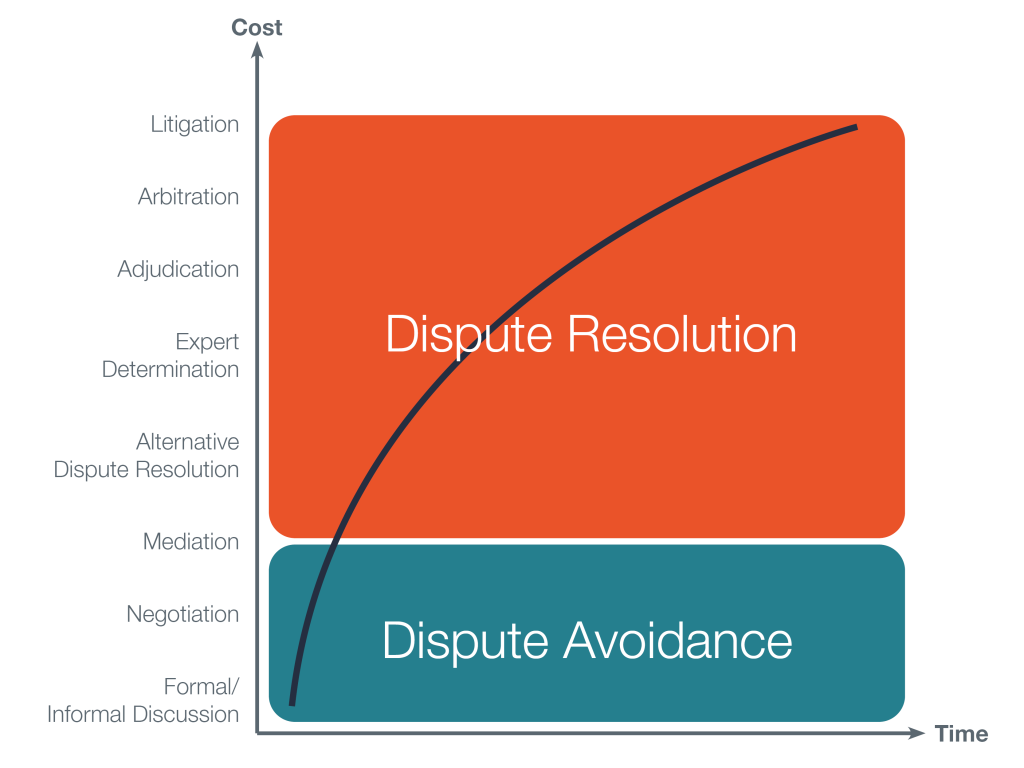 Dispute resolution processes, such as arbitration or litigation, often involve substantial costs. Hiring lawyers, conducting investigations, preparing documentation, and attending hearings can incur significant expenses. In contrast, dispute avoidance strategies focus on proactive measures to prevent conflicts from escalating to legal disputes at an early stage, thereby avoiding these additional costs.
4. Prevention as the Best Cure: Prevention is often regarded as the best cure when it comes to construction disputes, and this holds true for mega projects in the region as well. By implementing proactive measures, industry professionals can minimize the likelihood of disputes. This includes engaging in thorough project planning, implementing operational risk and change management procedures, conducting regular and effective communication among all stakeholders, and documenting all decisions and changes. Taking a proactive approach to dispute avoidance helps build a foundation of trust and collaboration among project participants.
5. Insurance Policy through Collaboration: To enhance dispute avoidance efforts in mega projects, it is crucial to involve all relevant parties in formulating strategies. Collaboration among designers, contractors, subcontractors, and legal advisors can significantly contribute to identifying potential risks and implementing effective policies and procedures. Professionals who specialize in construction disputes can provide valuable insights and advice, helping stakeholders develop robust strategies to proactively address conflicts.
Disputes are an unfortunate reality in complex construction projects, but they can be avoided or minimized through proactive measures which include clear and well-defined contracts, recognizing the unique challenges and interfaces in mega projects, understanding the changing context of construction agreements, and recognizing the cost and time implications of disputes. Collaboration among all parties involved and seeking advice from experts like TBH, can significantly contribute to successful dispute avoidance and ensure the timely completion of mega projects.
---
Aytug Ozkan is a Delay and Disruption Expert with over 15 years' experience. A Civil Engineer, Aytug has been in the Middle East since 2007 where he joined TBH in 2010 to work primarily in planning, project management and dispute resolution. He is a trusted advisor who regularly prepares, defends and negotiates delay, acceleration, disruption and cost claims. His international project experience spans mega and giga and smaller scale projects in several sectors.
For more information on TBH's Claims and Dispute Resolution services, click here.